Angel-in-us
Edit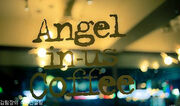 Angel-In-Us's name implies that coffee is God's gift delivered by angels. Only the best-quality arabica beans are roasted using the pure roasting system (a method of suspending coffee beans in the air to roast them evenly). 
A fresh, smooth coffee taste is guaranteed at Angel-In-Us coffeehouse. A range of desserts are also available so you may enjoy a light meal with your coffee: sweet and moist maple bread, Belgium-style premium waffles, bagels, muffins, sandwiches, and more. The interior of the Angel-In-Us stores are characterized by antique tables and chairs under soft lighting, providing a cozy ambience.
The coffee shop is in Ho Chi Minh City (Vietnam), located at 131 Nguyen Hue Street, District 1 (TripAdvisor ).