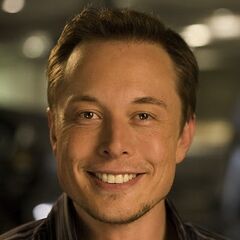 Elon Musk (born 28 June 1971) is an South-African born American entrepreneur, venture capitalist and philanthropist. He founded SpaceX, Tesla Motors and co-founded PayPal.
EducationEdit
After obtaining his Bachelor of Arts degree in Business at the Queen's School of Business in Ontario Canada, Musk went on to pursue a Bachelor of Science degree in Physics at the University of Pennsylvania.
In March 1999, Musk co-founded X.com, an online financial services and e-mail payment company. The company soon after acquired Confinity, which operated a subsidiary called PayPal. Musk developed the service we know now as PayPal.
In October 2002, PayPal was acquired by eBay for US$1.5 billion in stock. Before its sale, Musk, the company's largest shareholder, owned 11.7% of PayPal's shares.
Musk founded his third company, Space Exploration Technologies (SpaceX), in June 2002 and is the CEO and CTO. SpaceX develops and manufactures space launch vehicles with a focus on advancing the state of rocket technology.
Tesla MotorsEdit
Musk co-founded Tesla Motors and is the CEO and product architect. The California-based company designs, manufactures and sells electric cars and electric vehicle powertrain components to other automakers, including Daimler and Toyota.
The company plans to cover 98% of the United States and parts of Canada with their Supercharging technology by 2015, allowing for long trips all over the country. Telsa charging station are not yet in Utah, Salt Lake City 's first stations are planned for Winter 2013 (source ). 
SolarCityEdit
Musk provided the initial concept for SolarCity, where he remains the largest shareholder and chairman of the board. SolarCity is the largest provider of solar power systems in the United States and aims to collaborate with Tesla in combatting global warming.
HyperloopEdit
On August 12, 2013, Musk unveiled a proposal for a new form of transportation between the Greater Los Angeles area and the San Francisco Bay Area. The Hyperloop is a subsonic air travel machine that stretches approximately 350 miles from Los Angeles to San Francisco and would in theory allow commuters to travel between the cities in about 30 minutes. It should rely on solar energy for all power requirements.