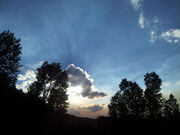 Ever thought that running looked fun or wanted to try it to lose a few pounds and get back in shape? If you're anything like me you definitely have. I've had streaks where I woke up early and would walk/jog six times a week, only to get flustered with how awkward it felt for my body and then stop. But recently I have been wanting to get back to it and to get to the point where I can run consecutively for at least three miles at a time. With that, I have been researching the best way to begin running and have shared what I've learned on this page.
Starting Out
Edit
1. Get a well fitted, good pair of running shoes. In the past I have visted Salt Lake Running Company where they observed my running on a treadmill and then were able to find the right shoe for me. I noticed a huge difference from the previous running shoes I had bought on my own.
2. Invest in some good clothing. Avoid 100% cotton clothing as it will retain moisture and can cause chaffing and irritation. I like to head to my local Target or TJMaxx to find a good deal on clothes for my workouts.
3. You need to make a plan! Having a goal in mind will help with motivation and drive. Look online for a good beginner program or check out this  8-week program found on Runnersworld.com.
4. Take it slow and get acclimated. Understand that it's going to take some time for your body to adjust to the new demands you're putting on it. Listen to your body and ease in to your new sport, if you feel pain that is different than sore muscles then don't run. And make sure you are getting enough rest so that your body has time to repair itself.
5. Make sure you're body is getting sufficient energy and hydration. Don't start a diet right when you begin running, you're body needs the fuel to keep you going. And always make sure you're drinking enough water throughout each day. Also, while you don't want to start a diet and lower your caloric intake, it's always a good time to work on eating healthier meals and what more fun way is there then checking out your local farmer's market and picking up fresh produce for the week ahead.
Now get out there and enjoy the fresh air!
Kick It Up A Notch
While running is great cardio and good workout for your legs, remember to add in workouts for your core and arms. A strong core will help you keep better form while running, especially when fatigue has set in.